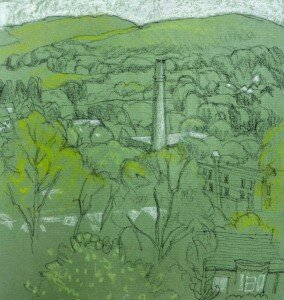 Mill Chimney with Distant Fells, Rossendale.
For some time now I've been involved with The Whitaker Museum and Art Gallery in Rawtenstall, to the North of Manchester.
And in case you didn't already know, this post-industrial area is known as The Rossendale Valley, characterised by the steep sided valley of the River Irwell and its tributaries which cut through the high moorland of the Rossendale Hills. In the valley bottom, urban settlements grew up at river crossing points between Rawtenstall and Bacup.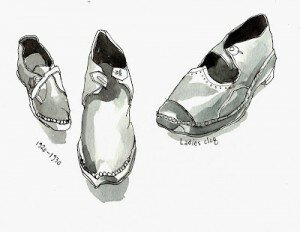 Millworkers clogs, Whitaker Museum
Textile mills and chimneys and gritstone terraced houses are the dominant buildings and roads are concentrated in the narrow valley. There's a striking contrast between the forbidding mill towns and the sunlit heights which form their backdrop.
We have such a wealth of subject matter for the sketching workshops I'm giving at the museum (Thursday evenings, with wine, other beverages available!) ( nb we're currently discussing another batch of sketching workshops, this post was originally published in June- if you'd like to be involved get in touch with the Whitaker ) and for The Big Draw, which took place late last year..
The museum's in a Victorian mansion with lovely views over the surrounding park and town, towards the fells. Inside, there's an eclectic collection of objects, including stuffed animals- some quite frightening- and birds, and an excellent café.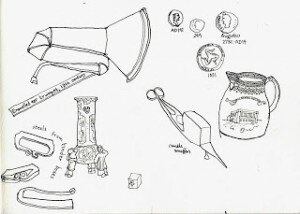 Various objects, Whitaker Museum
Everything you could ever need for a few hours spent happily sketching or not, and with refreshments to hand!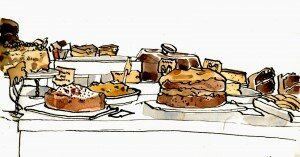 Cakes at the Whitaker